The beautiful purple heather that blankets the Scottish Highlands, and for which they are so known and admired, is not a natural phenomenon. The wiry tufts that now cover the balding hills and valleys were once thick pine forest. This was the first of many ecological facts we learnt soon after arriving at Alladale Wilderness Lodge, a luxury retreat in Scotland's northeast highlands. The 'resort' consists of the original hunting lodge, which can be hired for exclusive use for 14 guests, along with two stone bothies, each remote and self-contained: one sleeping four, one up to eight.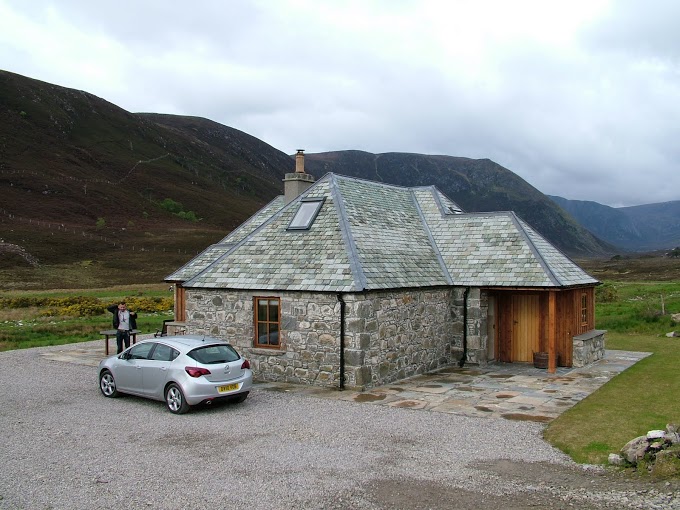 Ours was the smaller bothy, Ghille's Rest. Built sustainably using local materials, and powered by hydroelectricity from local rivers, the bothies strike a fine balance between tradition and modernity, combining stag-antler chandeliers with state-of-the-art media technology.
The project at Alladale is ambitious in its intentions; owner Paul Lister is convinced that in order to really regenerate the environment, all parts of the original ecosystem should be present. This may sound like an obvious conclusion, but when it involves reintroducing wolves, elk and wild boar to an area long rid of wild animals, controversy rears its ugly head. Only a lunatic would reintroduce wolves, say livestock farmers in the area.  But anyone building a perimeter fence contravenes the right to roam, legislation revered unanimously by Scots regardless of their environmental convictions.
Without wolves, though, the deer population remains unchecked and continues to rise. Deer feed on young tree saplings, stopping reforestation in its tracks and potentially hindering the rewilding project. But while the wolf debate remains at loggerheads, the project moves on with an undeterred ingenuity that would inspire even the seasoned cynic.
Deer culling takes place as a matter of course, providing income from ever popular stalking holidays, as well as luxurious meals for guests, prepared on-site by a creative chef. Saplings are protected by deer-proof fences which are moved once the trees mature.
Though not cheap (we paid £700 for three nights), a stay at Alladale is undoubtedly a unique experience and, considering what you get, I'd call it value for money. Our package included all food and soft drinks, a guided ranger walk, a 4×4 safari, mountain biking, and fly-fishing. We even managed to squeeze in a few games of snooker up at the main lodge. You also get to go snow-shoeing or watch the salmons leaping, as well as meet the eccentric highland cows, the surprisingly charming wild boar and a pair of shy elk, all currently living in extensive enclosures.
Our guide and ranger, Ronnie, patiently taught us how to cast a fly in the pouring rain. He drove us round the 23,000 acre estate explaining how, as the ranger in charge of tree-planting, he had coordinated the development of hundreds of thousands of new trees, having done most of the planting himself. Witnessing the success of almost ten years' work, I was moved by the enormity of one person's achievement.
After a wholesome day out in the glen we returned invigorated and inspired back to the efficient luxury of our bothy, tucked into a venison lasagne, all the more satisfied to feel (if only temporarily) like ethical carnivores.
This post was originally published on horseshoenail.org in 2010. While most details remain up to date, Alladale's rates have changed: they are now lower than quoted in the article but based on accommodation only. Check their website for full details. This document outlines the progress of the wilderness restoration project over the past decade.