The Bella Perla Marina is everything the Nacional is not: bright, contemporary, optimistic and welcoming. We booked this one well in advance, tipped off by the trusty LP about a new duplex that owner Waldo had just completed, adding a new level–literally–to his popular casa particular.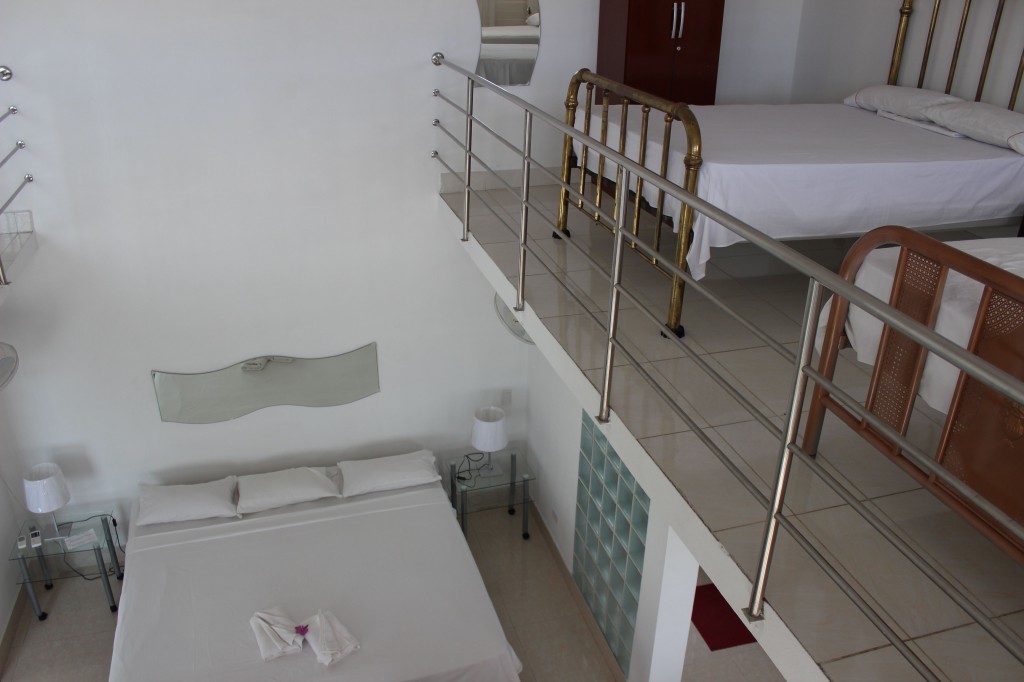 Greeted heartily by Waldo's wife on arrival, we were led up one flight of stairs to a roof terrace, where the modest and non-descript townhouse has been extended by a postmodernist rectangle, glowing white like an architectural alien from the future.
Inside, light streamed in through the half-open slats of the floor-to-ceiling shutters, and the mezzanine beckoned in brass and ceramic above our heads. After some minutes of gleeful exploration of our temporary home, we set out to explore–but not before booking a home cooked dinner at the casa that evening.
Nicknamed the Pearl of the South, Cienfuegos itself is spectacular, with rainbow-coloured rows of grand colonial buildings in various states of repair. The Bella Perla Marina is located in the city centre, within walking distance of most of the main sights. Outside the windows, taxi carts drawn by strong but scrawny nags trot by day and night, and the street noise rarely dips to a level you might call relaxing. But that's something you have to get used to quickly in Cuba: a complete absence of silence.
The immaculate accommodation would mean nothing without the warmth of the hosts: from the lovingly prepared breakfast, to the best bean soup in the Caribbean, to the sweet service of local students employed to attend the handful of dinner guests(my favourite was a charming but clumsy trainee doctor whose waiting skills left a lot to be desired, but whose bedside manner was clearly exceptional).
At CUC 70 a night, the suite is three times the price of other rooms in town, but with three double beds can sleep up to six, it's a worthwhile choice for groups who don't mind sharing. Even for couples looking for a luxurious respite, it's still much better value than comparable state-run hotels. One word of warning, though: the Bella Perla Marina is so wonderful that it may ruin all other casas particulares for you.