I was desperately seeking an excuse to stay at the Nacional, a place the Lonely Planet describes as "the cherry on the cake of Cuban hotels." Thankfully, I didn't have to look far: Cuban tourist visas require you to book your first three nights' accommodation, and it's near impossible to make reservations at any but the biggest establishments, thanks to a perfect storm Cuba's non-existent Internet infrastructure and the ongoing trade embargo that prevents US companies doing any sort of business there (read: most of the major hotel booking engines, credit card companies etc.).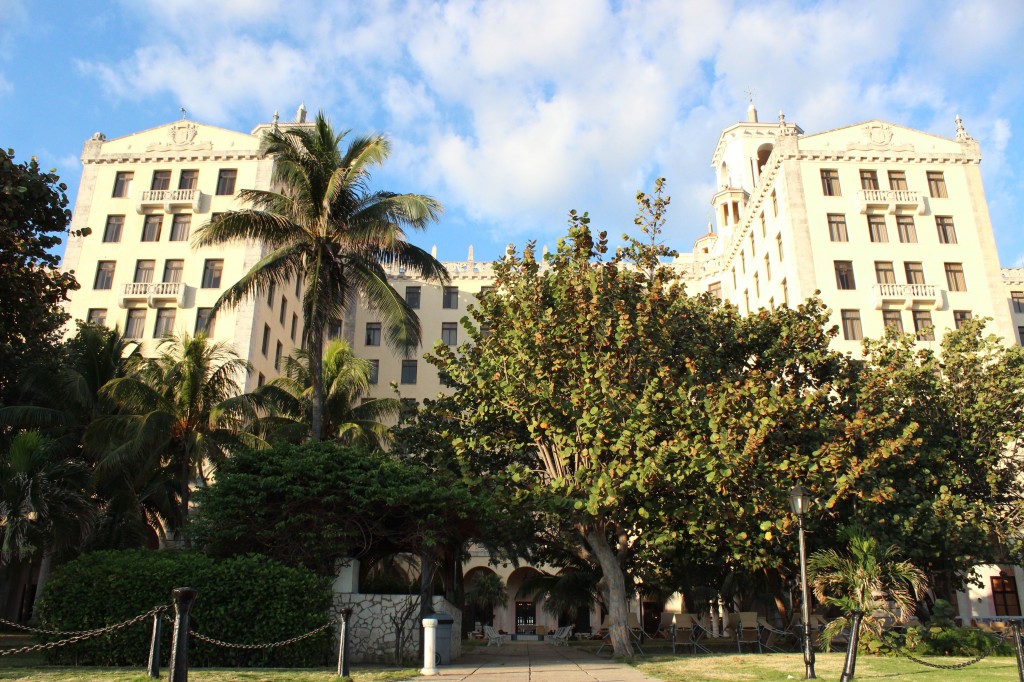 So, the Nacional it was (I was able to book a handful of hotels on otel.com). In Cuba, the hotel industry, like all other industries, is state controlled (Raul's recent relaxation of laws around private enterprise notwithstanding). The Nacional is, supposedly, the crown jewel of Havana's hotel scene, and it's indeed impressive–initially at least. Standing proud overlooking the ocean in the district of Varadero, slightly to the northwest of the Old Town and port, the Nacional is aptly named in that, to me at least, it represents Cuba itself. A thick veneer of pride belying a forlornness that could almost be charming if it weren't so damn depressing.    
Sure, the iconic terrace evokes the bliss of those balmy pre-revolution nights, damp with sweat and sweet, rapidly evaporating cocktails. It's possible still to lounge amid the colonial columns, listen to live son, and pretend we're in that scene from Our Man in Havana. I found that lack of authenticity unappealing, however, and what you're left with, if you acknowledge that, is little more than faux nostalgia.
The word that springs to mind whenever I think of the Nacional is tired. The decor is tired, the furnishings are tired, the building itself is tired. The staff is exhausted, and the cynicism of those who work there is infectious (though I'm susceptible to that particular malady). Hardly surprising when you consider the average Cuban earns less in a year than I paid for one night in a standard room–though breakfast was included. (Just for the record, this is a hotel review, not a debate on the relative merits of various politico-economic systems. Never mind my measly fortnight: two years in Cuba would barely allow me to scratch the surface of this complex society).
Five-star service as we know it is non-existent in Cuba; you'll wait hours for something that would take minutes elsewhere–though going along with it takes the idea of "slow travel" to a whole other level–and don't expect to be rewarded with a smile for your effort. My advice? Stay in a casa particular (private homestay) and just visit the National. Pay the cover charge and cool off from the city heat in one of the two luxuriant swimming pools. Most importantly, leave your preconceptions at the airport. Don't let culture shock blind you to the beauty of this nation. I had to learn that the hard way, and starting at the Nacional made things a whole lot harder.