I hadn't intended to include AirBnB properties on Hotel Geek. But then, the former is home to some of the most unique and interesting places to stay. There is room here for singular spaces of all kinds, and while you won't be seeing any run-of-the mill digs, some properties, like this luxury tipi on a permaculture farm in Western Australia are simply too amazing to omit.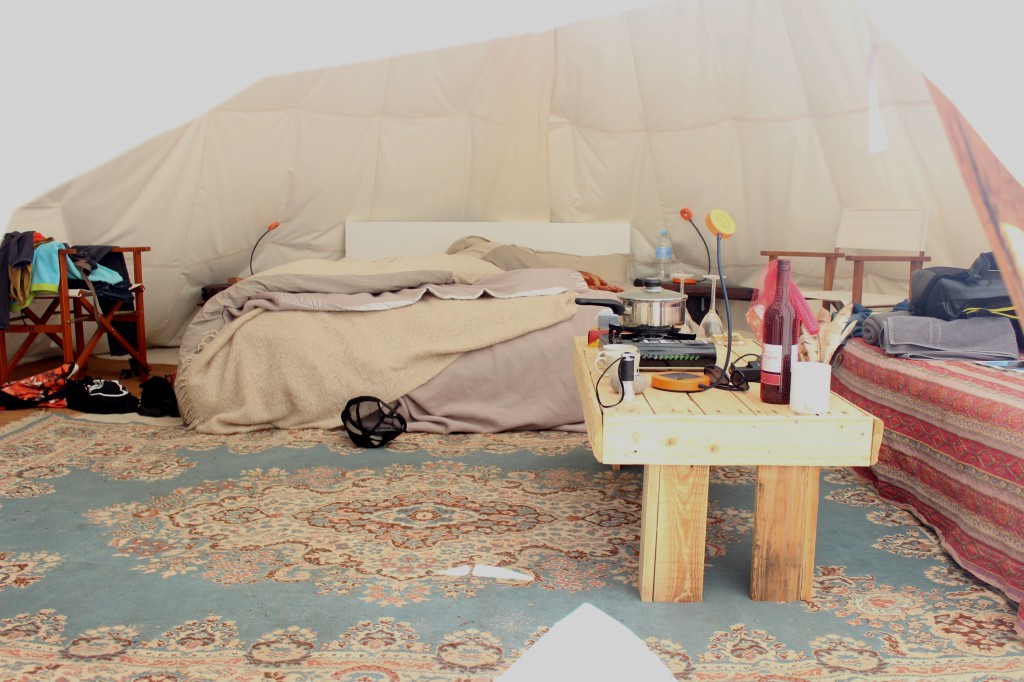 As always, I spent ages searching for somewhere to overnight in Margaret River. It's true there are some lovely-looking B&Bs in the area, but nothing struck me as exceptional. Before settling for second best, I decided to have a quick look on AirBnB– though not expecting to find much given the remoteness of the area. Then I stumbled upon the tipi, located on a working permaculture farm about 5km outside the one-horse town.
At $90 a night, the tipi was by far the best value accommodation around. Our stay there was a highlight of our five weeks in Australia, and most certainly the best part of our experience of Margaret River–a beautiful but touristy theme park of a destination devoid of any real character. With its great height and 6-metre diametre, the tipi feels enormous, and the colourful persian rug and inner drapes make it genuinely plush. There's an urn of rainwater and portable camping stove for brewing coffee, a sofa, collection of books and of course a couple of wine glasses–we're in a world-class wine region, after all. The shower is a few steps away, fed by water warmed in tubes that snake through the nearby compost heap. There's also a composting toilet, not too much a trek from the tipi (but just far enough away).
The true wonder of this experience, though, is the farm itself. Rather than fields of monocultures, Fair Harvest comprises 160 hectares of crops, plants and animals interacting in a profusion of biodiversity. Walking through the vegetable garden, an orchestra of insects vibrates the landscape. Geese and goats double as lawnmowers. "Feel free to go and visit the bees", said Jodie, the owner, as we explored the land. "Just let your energy drop, they won't attack". We gave that a miss. The stress of the city was still in us.
After a day spent sampling the local grape-based produce, we were keen to climb into our luxurious lodgings. The night sky, devoid of light pollution, was spectacular, and we considered opening the smoke flap to sleep under the stars. Snuggled warm under the covers despite a chilly 10 degrees outside (okay, chilly for Australia), I texted Jodie to see if she had any herbal tea. Five minutes later she turned up with a bunch of mint picked fresh from the garden. We dozed off early, tipsy, and woke with the morning light, in time to join the 6:30 yoga class.